Do you want to improve your smile permanently?
If you are embarrassed to show your smile because you have lost teeth over time, TEETH ON IMPLANTS® (also referred to as ALL on 4) can make you smile again.
The TEETH ON IMPLANTS® system is a highly effective dental technique that offers a permanent solution to missing teeth. The treatment refers to supporting all teeth on multiple implants, making them look, feel and function just like natural teeth. The procedure is particularly suitable for patients who may have missing, decayed or broken/chipped teeth.
How TEETH ON IMPLANTS® can enhance your smile
TEETH ON IMPLANTS® is a complete oral rehabilitation that will give you beautiful looking teeth and allow you to speak, smile and laugh with renewed confidence. Your new set of teeth will be perfectly aligned and have just the right shade to match the rest of your remaining natural teeth if you choose to restore only one arch.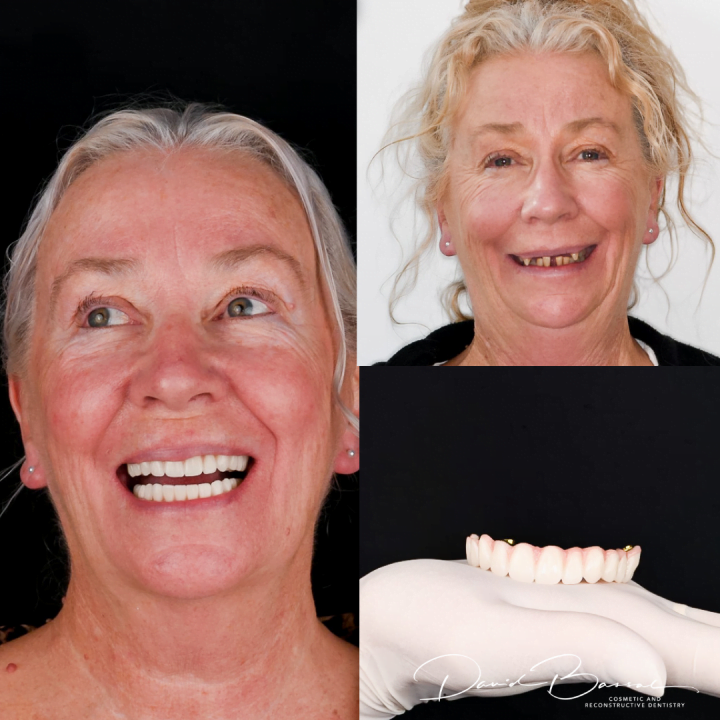 TEETH ON IMPLANTS® Benefits
Speak with confidence
Minimal pain during treatment
Look and feel like natural teeth
Long lasting solutions for single or multiple missing teeth
Efficient treatment & recovery time
Minimal maintenance
Single visit procedure
Help prevent further bone loss associated with missing teeth
8 Reasons
Why TEETH ON IMPLANTS® is the preferred implant option
1. Performed by qualified implant experts
Local dental implant experts, Dr Ned Restom, Dr David Bassal and their teams have completed extensive training specifically in TEETH ON IMPLANTS® and smile design. They are highly qualified and experienced in the area and are aware of all the contributing factors that are necessary to provide exceptional results for you and your smile.
2. Comfortable surgery
With TEETH ON IMPLANTS® you can enjoy a comfortable dental experience above all else. From sedation during your surgery – offering this procedure while you are asleep, to our highly developed medication regime given before, during, and after your operation your our dentists have you covered!
3. Digital Smile Design prior to treatment
Before your procedure you can view exactly what your new smile will look like and work together with your dentist to codesign your beautiful new smile.
4. Most advanced technology
With the latest in implant design and scanning technology, TEETH ON IMPLANTS® work with world leaders in teeth and titanium bar designs that fit perfectly, every time.
5. Not just ALL On 4
With TEETH ON IMPLANTS® you can get as many implants as you require to ensure your full arch is secure, and at no additional cost.
The TEETH ON IMPLANTS® protocol has improved on outdated modes by enhancing your treatment, through the addition of more implants we aim for an outcome that is more sturdy – standing the test of time.
6. No unsightly gap
Unlike other implant approaches, with TEETH ON IMPLANTS® you will have no gap at the gum line giving you a more comfortable fit – thanks to our cutting-edge digital scanning methods.
7. Material diversity
With the evolution of stronger, more lifelike materials – TEETH ON IMPLANTS® offers you a material solution recreating your smile that is a class above the rest.
8. Bone grafting
TEETH ON IMPLANTS® believes in giving you the best option every time, unlike other methods there is no extra charge for bone grafting to increase bone volumes for the longevity of your smile!
Payment plan options are available
We understand that dental treatment can be costly, and we believe that everyone deserves to get the smile of their dreams which is why we offer a range of payment plan options. Our friendly team can run you through these during your consultation.
Want to take the next step towards getting the smile you deserve?
Book a consultation today!
Dental Implants Manly I Dental Implants Avoca Beach I Dental Implant Central Coast I Dental Implants Sydney I Dental Implants Lake Macquarie I Dental Implants Empire Bay | Dental Implants Saratoga I Dental Implants Warnervale I Dental Implants Mingara I Dental Implants Newcastle | Dental Implants Maitland
Want to learn more about Teeth on Implants?
Claim your complimentary Ebooklet